CONTACT REFLEX ANALYSIS
Also Known as Muscle Reflex Technology or Kinesiology
Written mostly by Irene Miesse N.D.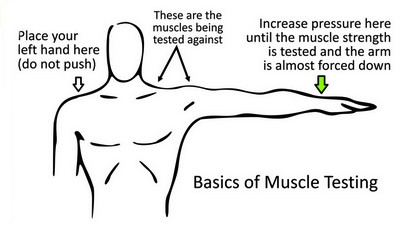 MUSCLE TEST FACT SHEET

During the 1960's a new system of evaluation began to develop in chiropractics. Dr. George Goodheart of Detroit, Michigan found that evaluation of normal and abnormal body functions could be accomplished by using muscle tests. Since the original discovery, the principle has been broadened to include evaluation of the nervous, vascular, lymphatic systems, nutritional deficiencies, skeletal weakness or misalignment, muscular spasms or deficiencies, and cerebrospinal function. This new system of diagnosis is called "Applied Kinesiology" or "Muscle Testing". (Systems DC, 1981. "Applied Kinesiology....")

Kinesiology is a new field in orthodox circles, but growing rapidly as with any "new" method, kinesiology has met its share of resistance. Its greatest hindrance to the modern mind is probably the degree of simplicity involved. It provides information that is often not otherwise available even with expensive laboratory tests.

"Amazing." "Inccredible" "I can hardly believe it, but it works." "Fascinating." These are some of the remarks heard by health professionals when a patient is introduced to an applied Kinesiology examination.

Since kinesiology has been used by every branch of medicine and health. Today there are thousands of practitioners using this method as part of their evaluation in order to better help patients. There are various skill levels in this blossoming art; those with advanced knowledge and experience will tell you that they would rely on their kinesiology findings before they would believe many of the laboratory tests, including blood tests.



"MRT or Muscle Testing"
Learning the basics