Intestinal Issues

Constipation
Diarrhea
Inflammatory bowel
Parasites

Very Important: also read this page about digestion/assimilation
The intestines, best known for removing waste from the body, also serve to pick out and absorb nutrients into the body. Keeping this system clean and flowing smoothly is of the utmost importance.

Key Product: Bowel Detox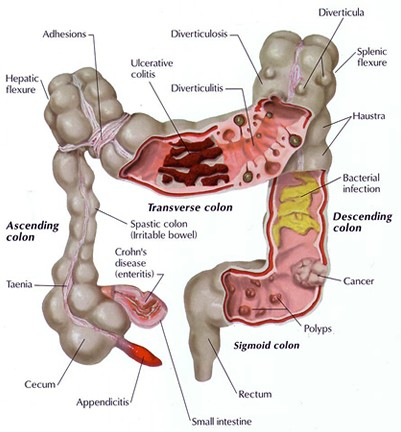 Constipation
General Indications

Dry, compacted stool - Infrequent or difficult elimination - Mental sluggishness - Feelings of bloating and fullness
Unpleasant-smelling stools - Poor diet - Environmental toxicity - Fatigue and irritability - Gastrointestinal irregularities - Allergic reactions
I. Atonic Constipation

Regular but sluggish elimination - Thick, goey consistency



II. Spastic Constipation
Cramping, explosive bowel movements (every 2-3 days or more)
Irregular bowel movement schedule
Stress



II. Inflammatory Bowel

Alternative Diarrhea or Constipation
Diagnosis of Crohn's, Celiac, Colitis
Irritable Bowel Syndrome




PARASITES
Indications

Severe diarrhea after foreign travel
Chronic diarrhea after drinking untreated water
Chronic, unresolved health problems
Unsatisfied appetite - Itchy rectum
Constant hunger
FULL MOON AND NEW MOON ARE TIMES OF GREAT ACTIVITY FOR PARASITES. IT IS PERFECT CLEANSING TIME FOR ALL OF US.
A SIMPLE DIET OF VEGETABLES AND FRUIT WILL MOST LIKELY HELP STARVE THE PARASITES.


Parasites: Putting it all together
[by Béatrice Duplantier-Rhea, N.D.]

1. START WITH A GENTLE CLEANSING:
Pre-program: it is best to use a lower bowel cleanse first such as Chinese Tiao-He-Cleanse (10 days) to loosen and start removing old fecal material that may be present, making a happy home for parasites.

2. CONTINUING WITH THE KILLING OF PARASITES:
Fight parasites with Para Cleanse with Paw-Paw, an ideal foundation for treating intestinal parasites. Take the contents of one cello packet twice a day 15 minutes before your morning and evening meals with at least 8 oz. pure water. Continue the program for 10 days, eating a lot of fresh fruits and vegetables.

3. FINALLY... STRENGTHEN THE INTESTINAL DEFENSE SYSTEM
Post-program: be sure to use probiotics such as Acidophilus, Bifidophilus or Probiotics Eleven after the strong herbs of an antiparasitic just as you would after using antibiotics. This assures that healthful bacteria, which may also have been killed, are replanted.

Notes: 1. Always drink plenty of (mineral) water (Celtic or Evian) when on a cleansing program.
2. Since family members often share parasites with each other, best results are obtained when all family members use the same program at the same time.




The "3 Essentials"


(For most common health issues: visit this page)


1. Our very existence is dependent upon the body's ability to utilize minerals because minerals activate enzymes! More about minerals
2. Digestive Enzymes: If food is not digesting properly, it creates waste that builds up downstream in the colon... an open door to toxicity & diseases! More Info
3. Probiotics: "Friendly gut bacteria play a crucial role in preventing diseases, from cancer to obesity". Dr. Robynne Chutkan M.D. More info
It packs

vitamins, minerals, amino acids

, herbs for practically unbeatable supplement and antioxidant support.




No supplement we take is going to do us any good if we cannot digest

and

assimilate properly.




These essential "friendly" microbes help regulate intestinal functions & improve immunity. "

All diseases begin in the gut!

" Hippocrates