"MRT or Muscle Testing"
Learning the basics
BRAIN REFLEXES-2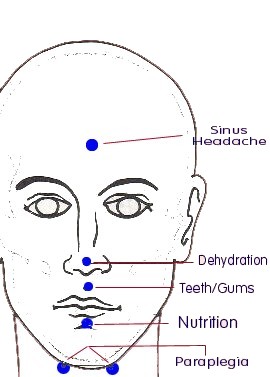 A PARAPLEGIC DOES NOT HAVE USE OF HIS OR HER LEGS AND FEET AND SOME LOWER BODY MUSCLES.

A QUADRAPLEGIC DOES NOT HAVE USE OF HIS OR HER LEGS, FEET, ARMS HANDS AND TRUNK MUSCLES

WHAT CAUSES PARAPLEGIA AND QUADRAPLEGIA?
Spinal cord injury resulting in Paraplegia or Quadraplegia is most often caused by a severe accident.
Statistics show that the majority of Paraplegics and Quadraplegics sustain their injury from road accidents. These along with diving and other sporting accidents effect many young people for the rest of their lives.
Spinal injury, resulting in Paraplegia and Quadraplegia, can also occur if the spinal cord is damaged through a disease which causes infection or if there is a tumor on the spine.

Sinuses:
The sinuses are hollow spaces found in the bones of the head and face. Sinuses start developing right after you are born and keep growing until you're about 20 years old. There are four pairs of sinuses, or eight in all.
They are located on either side of the nose in your cheeks, behind and between the eyes, in the forehead, and there's even a pair in the very back of the nose. Sinuses are coated with the same kind of lining that's found inside the nose, the nasal membrane.
This lining produces mucus.
The mucus traps dust and germs that are in the air we breathe. On the surface of the cells of the sinus' membrane are microscopic hairs called cilia. The cilia beat back and forth in waves to clear mucus from the sinuses, into the nose, and then toward the back of the nose to be swallowed.
When we have a cold or a bad allergy attack, the membrane is irritated and the nose produces even more mucus.


©1994 - 2020 Four Winds, Inc. USA
Disclaimer: We do not directly dispense medical advice or prescribe the use of herbs or supplements as a form of treatment for illness. The information found on this Web Site is for educational purposes only and to empower people with knowledge to take care of their own health. We disclaim any liability if the reader uses or prescribes any remedies, natural or otherwise, for him/herself or another. Always consult a licensed health professional should a need be indicated.