The glandular and nervous systems work intimately together to maintain balance among all of the body systems. Together, these systems regulate both voluntary and involuntary actions within the body such as growth, metabolism, digestion, elimination, menstruation and sleep. These systems also serve as the body's means of communication between cells.

The glandular system communicates using chemical messengers called hormones, which stimulate reactions that may last from a few hours to several days. Glandular system concerns include hormone imbalances, weak adrenal glands, thyroid imbalance, diabetes, hypoglycemia and hyperglycemia.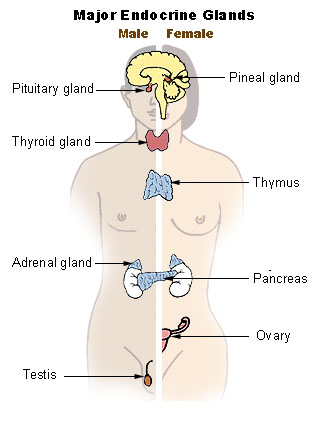 Pituitary, Thymus, Female & Male Reproductive

See also
Adrenals, Pancreas
The Thyroid


The Thymus
Indications
Poor resistance to disease, low self esteem.
Build & Tonify The Thymus With


FEMALE CONCERNS
MENOPAUSE - A
Indications
Irregular menstrual cycle
Lack of menstruation
Bloating, swelling
Pain or tenderness associated with monthly periods
Blood congestion
Cramps, Heavy bleeding
Headaches associated with PMS

Our Suggestion






MENOPAUSE - B
Indications
Hot flashes
Depression & mood swings
Vaginal dryness
Osteoporosis

Our Suggestion






PREGNANCY
NURSING

Our Suggestion



Indications
Loss of libido (desire)
Pain or discomfort associated with intercourse
Infertility

Our Suggestion
(take both products below)



MALE CONCERNS
IMPOTENCE - INFERTITLIY

Loss of libido (desire)
Infertility
Impotence

Our Suggestion
(take both products below)


PROSTATE
For More on Men Health Click Here

Indications
Difficult urination
Medical diagnosis of prostate enlargement


Our Suggestion
(take both products below)

Add Ionic Minerals or Mineral Chi if your diet is not as healthy as it should be... Why? Read first

And.. If your colon is not working properly (at least one bowel movement/day) then it is wise to start this program with a 15 days cleanse such as Tiao He Cleanse as well as the Ionic Minerals or the Mineral Chi below.