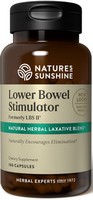 LBS II
Lower Bowel Stimulant formula. A very popular stimulant laxative.
it strengthens the colon and increases peristalsis to evacuate the bowel and overcome constipation.
Improves digestion, reduces gas and cramping, and helps the growth of friendly bacteria. 
An important ingredient in the Tiao He Cleanse. A safe, balanced formulation that is generally preferred.
It is effective without being as harsh as some herbal cleanses. 
Caution if diarrhea, pregnancy or weakened condition.

Contains: 
Cascara sagrada, buckthorn, licorice, barberry, capsicum, ginger, couch grass, red clover, turkey rhubarb.