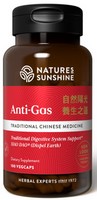 Anti-Gas Chinese Formula
A highly concentrated blend of 15 Chinese herbs that support the digestive and detoxifying functions of the body, including the urinary system. Chinese Anti-Gas for stressed digestion. 
A soothing digestive aid intestinal system that "clears the congestion" where there may be excess worry and need for approval. 
Used for digestive sluggishness including gas, bloating, nausea and cravings for sweets.
Distributes energy and warmth outward. 
Can be substituted for LBS II or Anti-Gas formula (AG-X) if someone is intolerant of Cascara Sagrada. 

Contains:
Agastache, shengu, rnagnolia bark, ntractylodes, saussurea, oryza, hoelen, gastrodia, citrus, pinellia, cardamon, crateagus, ginger, licerice, Siberian ginseng, platycodon.