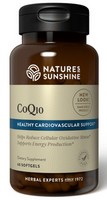 When it comes to protecting your heart, one of the best antioxidants is Co-Q10.
It reduces blood pressure, aids recovery from heart attacks, keeps LDL cholesterol from oxidizing and improves energy production in the heart muscle.
Statin drugs deplete Q-10, so this supplement should always be taken by people using statin drugs to lower cholesterol.