Abdominal Pain
By Steven Horne, RH (AHG) & Kimberly Balas, ND

Pain or cramping in the abdominal area is a sign of irritation and inflammation in the digestive tract. It may be accompanied by gas and bloating or intestinal cramps. The bile can build up in the gall bladder and cause an inflammatory action that results in abdominal pain.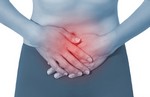 Intestinal Soothe and Build and CLT-X both help to reduce inflammation in the intestinal tract. CLT-X also contains wild yam, which is antispasmodic, relieving intestinal cramping. An alkalizing program to help with clearing gall bladder can reduce pain.

Gall Bladder Formula may help to move over a prolonged period of use. Refer to section on gall bladder cleanse. When using essential Oil products for this problem, apply them topically over the abdominal area, rather than taking them internally. If problems persist, see a medical doctor for a proper diagnosis. See related conditions for more detailed information on possible of this problem.
Below is a list of suggested products. Those in bold are key products for the health issue explained on this page.
For details and ordering simply copy a product's name in the search box above or click on the bold name.





Therapies: Aromatherapy, Cleansing Programs, Gall Bladder Flush and Hiatal Hernia Correction

Herbs: Capsicum, Chamomile and Lobelia
Herbal Formulas: AL-J, All Cell Detox, Anti-Gas Formula, Catnip & Fennel, Chinese Kidney Activator, CLT-X, Cramp Relief, Gall Bladder Formula, Gastro Health, IF Relief, Intestinal Soothe & Build, Liver Balance, Spleen Activator and Stress Relief
Herbal Extracts: CurcuminBP
Nutrients: Magnesium, Probiotic Eleven and Probiotic Power (Children)
Nutraceuticals: AnxiousLess and Super ORAC
Essential Oils: Clove Bud, Deep Relief Oil, Myrrh, Pink Grapefruit and Roman Chamomile