Nordic Cod Liver Oil - 8 oz.
For medium to large breed dogs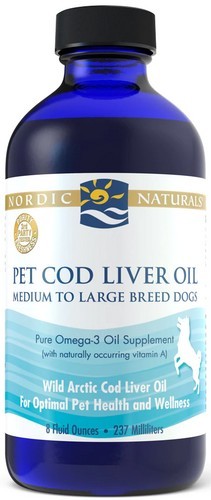 Healthy Benefits
Skin and Coat Health*
Immune System Health*
Joint Health*

The classic omega-3 fish oil to help keep your favorite canine friend healthy.
Pure, fresh 100% wild Arctic cod liver oil
Supports brain and eye development and maintenance
Supports heart health
Available for medium- to large-breed dogs
Can be added to food, or taken by itself
Award winner! Vitamin Retailer's Vity Award
Description

Omega-3 Pet Cod Liver Oil
For Medium to large Breed Dogs
Product Size: 8 Fluid Ounces - 237 milliliters



Note: All three-product sizes are the same product formulation. Nordic Naturals pet products are specially formulated for dogs and cats. In order to ensure safety, please use only our Nordic Pet Collection for dogs and cats, not our human products.

Daily supplementation with our pet products is a proactive way to help maintain the overall health for your pet companion

Traditionally, Norwegians have used cod liver oil for its nourishing and healthful benefits. It is an ideal source of the omega-3 fatty acids EPA and DHA, as well as naturally occurring vitamin A. Nordic Naturals Pet Cod Liver Oil continues this tradition by providing your dog and cat patients and companions with these same important nutrients.

Our Pet Cod Liver Oil is derived exclusively from wild Arctic cod (Skrei), from the Norwegian Sea off the Lofoten Islands near Bodø, Norway. Due to the seasonal variations of food supply for wild Arctic cod, the amount of vitamin A will fluctuate with each batch. Please refer to the product label for the current amount of vitamin A in the product.

OMEGA-3 FATTY ACIDS

Omega-3 fatty acids EPA and DHA are important fatty acids for humans and their dog and cat companions because they cannot be made in the body. The only source of EPA and DHA for these species is through the diet and/or supplementation.

Daily supplementation with Omega-3 Fatty Acids helps support optimal health for your pet companion.


EPA and DHA are necessary structural components of cell membranes. These omega-3 fatty acids maintain the cell membrane fluidity and permeability needed for healthy, functioning cells.



EPA and DHA are found abundantly in cold-water fish. Flax seed oil contains ALA, another omega-3 fatty acid that requires the body to first convert ALA to EPA and DHA before utilization. Humans and dogs have limited ability to make this conversion, while cats have even less ability to make this conversion. Therefore, supplementation with high-quality omega-3 fish oil is recommended for humans, dogs and cats.


The omega-3 fatty acids (EPA and DHA)
found in fish oil support:
• Cellular health
• Immune system health
• Skin and coat health
• Joint health
• Heart health
• Brain development and maintenance
• Eye development and maintenance



Vitamin A
Vitamin A is a fat-soluble and essential vitamin in the diets of dogs and cats, and is found naturally in cod liver oil.
Vitamin A is important for normal vision, immune function, fetal development, growth, and cellular differentiation (important for maintaining healthy skin cells, corneal cells, and other cells lining the respiratory, gastrointestinal, and reproductive tracts).
Suggested daily use for dogs 20 to over 100 lbs
20-39 lbs: 2.5 mL (184 mg EPA/253 mg DHA)
40-59 lbs: 5.0 mL (368 mg EPA/506 mg DHA)
60-79 lbs: 7.5 mL (552 mg EPA/759 mg DHA)
80-110 lbs: 10 mL (736 mg EPA/1012 mg DHA)
111+ lbs: 12.5 mL (920 mg EPA/1265 mg DHA)
Apply oil onto food, or serve by itself.
Do not exceed the suggested daily use without consulting your veterinarian.
For best results, please refrigerate and use within three months after opening.
Guaranteed analysis per 1 teaspoon = 5.0 mL (4600 mg)
Eicosapentaenoic Acid (EPA) (min.) 8%
Docosahexaenoic Acid (DHA) (min.) 11%
Vitamin A** (min.) 175 I.U.
Total Omega-3 Fatty Acids* (min.) 24%
* Not recognized as an essential nutrient by the AAFCO Dog Food Nutrient Profiles.
** Contains less than 10% of the daily requirement of vitamin A for dogs.
Ingredients: cod liver oil, mixed tocopherols (a preservative).

Attention
Consult your veterinarian if your pet has a chronic illness or is on any medication before using this product.
Inform your veterinarian that your pet is receiving this product before any anticipated surgery.
Consult your veterinarian in cases of accidental ingestion.
Keep out of the reach of children and pets.

Storage
Store in a cool, dry place, away from sunlight.
Store bottle with original cap in refrigerator once opened.
REFRIGERATE AFTER OPENING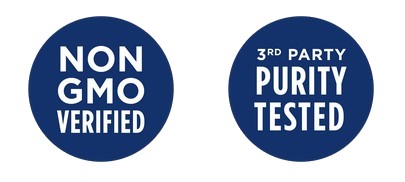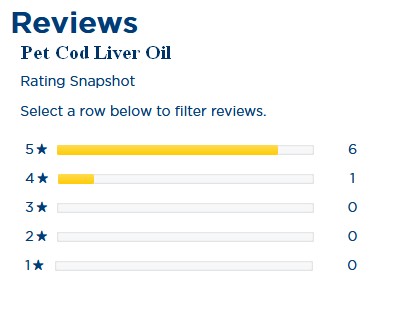 Key Reviews


5 out of 5 stars.
Nordic Naturals Omega 3 and Cod Liver Oil
Excellent for my German Shepherd and for me! Supports skin, hair, joints, eyes and cardio-vascular! A "must have" for German Shepherds!

5 out of 5 stars.
Dog Mom approved
My little 13 year old beagle was starting to look her age, but then I added Nordic Naturals cod lived into her diet. She is softer than my favorite blanket and looks like a puppy again!!

Cod Liver Oil for Dogs
I give this product to my 12 year old/60lb dog, 1/2 teaspoon 2x/day. He enjoys it very much and along with other supplements has had enjoyed healthy heart function ever since he started. He also likes licking it off the teaspoon after dropping into his food bowl!

Love
My dog loves this on his food! It's also beneficial and has helped his fur

1994 - 2022 Four Winds, Inc. USA
Disclaimer: We do not directly dispense medical advice or prescribe the use of herbs or supplements as a form of treatment for illness. The information found on this Web Site is for educational purposes only and to empower people with knowledge to take care of their own health. We disclaim any liability if the reader uses or prescribes any remedies, natural or otherwise, for him/herself or another. Always consult a licensed health professional should a need be indicated.