Energy Quick Guide
Also read:
To restore energy you need to restore health!

.

KEY SUPPORTING PRODUCTS

Helps reduce physical fatigue.
Provides energy for daily tasks.
Increases mental clarity and focus.
Helps the body mobilize fat stores to be used as fuel.
Increases exercise endurance and stamina.

Solstic Energy [Vital Nutrition] is a low-calorie, sugar-free energy drink featuring guarana, green tea and B vitamins.
2. Energ-V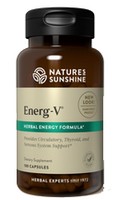 A collection of stimulating energy herbs.
Adaptogenic herbs help the body adapt to stress.
Yellow dock is rich source of iron for strong blood. In fact, several of the herbs are especially high in vitamins needed to produce hormones and increase energy metabolism.
Bee pollen, barley grass and rose hips are powerful nutrients.
Licorice and kelp directly support the energy regulating adrenal and thyroid glands.
Schizandra and Gotu Kola are stimulating to the nervous and circulatory systems.
Gotu kola helps improve memory.
Contains:
Siberian ginseng, gotu kola, pollen, kelp, licorice, yellow dock, schizandra, barley grass, rose hips, capsicum.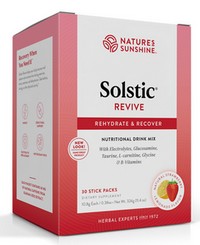 Replaces electrolytes lost through exercise or stress.
Supports the structural system.
Provides amino acids for muscular support.
Boosts energy and endurance.
Helps maintain joint health.

Solstic Revive [Energy & Fitness] replaces vital nutrients—including calcium, magnesium, sodium and potassium—lost during exercise, stress, exertion, dehydration and malnutrition.
Revive is perfect for before, during and after any strenuous activity or as a refreshing beverage anytime throughout the day. Solstic Revive also contains 500 mg glucosamine per serving to help support joint and cartilage health plus l-carnitine, l-taurine, l-glycine, B vitamins, d-ribose, and extracts of pomegranate and grape skin.

The "3 Essentials"

(For most common health issues: visit this page)
1. Our very existence is dependent upon the body's ability to utilize minerals because
minerals activate enzymes
!
More about minerals
2.
Digestive Enzymes
: If food is not digesting properly, it creates waste that builds up downstream in the colon... an open door to toxicity & diseases!
More Info
3.
Probiotics
: "Friendly gut bacteria play a crucial role in preventing diseases, from cancer to obesity".
Dr. Robynne Chutkan M.D.
More info
It packs

vitamins, minerals, amino acids

, herbs for practically unbeatable supplement and antioxidant support.




No supplement we take is going to do us any good if we cannot digest

and

assimilate properly.




These essential "friendly" microbes help regulate intestinal functions & improve immunity. "

All diseases begin in the gut!

" Hippocrates