Lukewarm Lemon Water First Thing In The Morning!
Not only are the benefits of lemon water endless, it's one of the most substantial yet simple changes you can make for your health.
According to Ayurvedic philosophy, choices that you make regarding your daily routine either build up resistance to disease or tear it down.

Your first drink in the morning!
Squeeze 1/2 a lemon with a glass of lukewarm water and drink it down before you eat a single thing, or workout, etc.
Because of how hard lemon juice can be on the enamel of your teeth, it's important to dilute it with water of any temperature (though lukewarm is recommended). Drink it first thing in the morning, and wait 15 to 30 minutes to have breakfast. This will help you fully receive the benefits of lemon water, which are listed below. Try adding a capsule of Curcumin BP for a boost.
According to Dr. Axe
"Lemon Water Nutrition Facts
Lemons are loaded with healthy benefits, and particularly, they're a great vitamin C food source. One cup of fresh lemon juice provides 187 percent of your daily recommended serving of vitamin C — take that, oranges! Lemon juice also offers up a healthy serving of potassium, magnesium and copper.
Check out what other benefits one cup of fresh lemon juice adds to a plain glass of water. Here are some lemon water nutrition facts:
61 calories
3 grams protein
6 grams sugar
0 grams fat
112 milligrams vitamin C (187 percent DV)
303 milligrams potassium (9 percent DV)
31.7 micrograms folate (8 percent DV)
0.1 milligrams vitamin B6 (6 percent DV)
0.1 milligrams thiamin (5 percent DV)
0.1 milligrams copper (4 percent DV)
1 gram fiber (4 percent DV)
14.6 milligrams magnesium (4 percent DV)
0.4 milligrams vitamin E (2 percent DV)"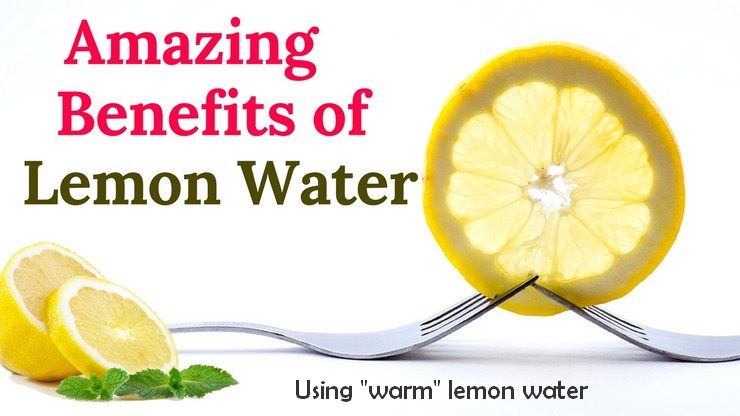 Electrolytes
Excerpts from BuiltLean
Lemons help to replenish electrolytes and the body's natural minerals.
"There are several common electrolytes found in the body, each serving a specific and important role, but most are in some part responsible for maintaining the balance of fluids between the intracellular (inside the cell) and extracellular (outside the cell) environments. This balance is critically important for things like hydration, nerve impulses, muscle function, and pH level.
An electrolyte imbalance, whether too much or too little, can be quite detrimental to your health. Muscle contraction, for example, requires calcium, potassium and sodium; deficiency may result in muscle weakness or severe cramping. Too much sodium, on the other hand, can cause high blood pressure and significantly increase your risk of heart disease. Don't get too worried about maintaining your electrolytes; luckily, electrolyte levels are mostly determined by food and water consumption so keeping the right balance simply comes down to proper nutrition."

Healthy Skin (Dr .Axe)
The antioxidants found in vitamin C do double duty in lemon water. They fight damage caused by free radicals, keeping your skin looking fresh.
Getting enough vitamin C from your lemon water also keeps the body producing collagen, essential in smoothing out lines in the face. And, in one recent study published in the American Journal of Clinical Nutrition, regularly consuming vitamin C led to younger-looking skin and less wrinkles.

Weight Loss
Lemons contain pectin fiber, which assists in fighting hunger cravings.
For those who weigh less than 150 pounds, squeeze half a lemon's worth of juice into a glass of water.
If over 150 pounds, use an entire lemon's juice. You can of course dilute the lemon juice more, depending on your personal taste.

Aids in digestion and detoxification (Dr. Axe)
Because lemon juice's atomic structure is similar to the digestive juices found in the stomach, it tricks the liver into producing bile, which helps keep food moving through your body and gastrointestinal tract smoothly.
Lemon water also helps relieve indigestion or ease an upset stomach.
The acids found in lemon juice also encourage your body to process the good stuff in foods more slowly. This drawn-out absorption means insulin levels remain steady and you get more nutrients out of the foods you consume. Better nutrient absorption means less bloating.
Lemon water benefits the enzyme functions in your body, stimulating the liver and flushing out toxins.
Because it's a mild diuretic, you might find yourself using the bathroom more often, helping the urinary tract get rid of any unwanted elements. All of this helps detox body & skin.

Boost your Immune System With Vitamin C
One lemon has roughly 30.7 mg of vitamin C depending on the size of that lemon. Vitamin C is one of the best antioxidants for the body, and it can be consumed as easily as adding a slice or two of lemon to your water.
Since your body doesn't make vitamin C on its own, it's important to get enough of it from the foods and drinks you ingest. Luckily, lemons are chock-full of the vitamin.
What are the benefits of getting enough vitamin C?
It stimulates white blood cell production, vital for your immune system to function properly. As an antioxidant, vitamin C also protects cells from oxidative damage. Plus, getting enough vitamin C helps the immune system keep colds and flu at bay. Drinking lemon water daily ensures your body gets a sizable amount of vitamin C daily.

Reduces inflammation.
The Curcumin and Lemon Morning Boost
1/2 an organic lemon, squeezed for juice
1 capsule of Curcumin BP (open the capsule and mix the content with your lemon water)
1/2 tsp organic honey
1 cup warm water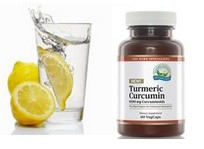 Drink lemon water on a regular basis, it will decrease the acidity in your body, which is where disease states occur. It removes uric acid in your joints, which is one of the main causes of inflammation.

About Curcumin
According to a review study published in the AAPS Journal (2013), "Curcumin has shown therapeutic potential against a number of human diseases," including multiple types of cancer, inflammatory bowel disease, irritable bowel syndrome, arthritis, peptic ulcers, psoriasis, H. pylori infection, Alzheimer's disease, acute coronary syndrome, atherosclerosis, diabetes, and respiratory tract infections.


It helps prevent kidney stones
The citric acid in lemons may help prevent calcium kidney stones. UW Health recommends increasing citric acid intake to decrease your risk of getting new calcium stones.
Drinking lemon water not only helps you get more citric acid, but also the water you need to prevent stones.
Having 1/2 cup of lemon juice provides the same amount of citric acid you'd find in prescription varieties.

The "3 Essentials"

(For most common health issues: visit this page)
1. Our very existence is dependent upon the body's ability to utilize minerals because
minerals activate enzymes
!
More about minerals
2.
Digestive Enzymes
: If food is not digesting properly, it creates waste that builds up downstream in the colon... an open door to toxicity & diseases!
More Info
3.
Probiotics
: "Friendly gut bacteria play a crucial role in preventing diseases, from cancer to obesity".
Dr. Robynne Chutkan M.D.
More info
It packs

vitamins, minerals, amino acids

, herbs for practically unbeatable supplement and antioxidant support.




No supplement we take is going to do us any good if we cannot digest

and

assimilate properly.




These essential "friendly" microbes help regulate intestinal functions & improve immunity. "

All diseases begin in the gut!

" Hippocrates