Welcome to our new "responsive" site!
OUR MISSION
It is to offer information and suggestion(s) with regard to "natural" health. It is also to establish a friendly dialogue with you, our customers and answer your health questions as best we can!

Question of the week: Are you struggling with abdominal pain?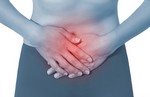 Pain or cramping in the abdominal area is a sign of irritation and inflammation in the digestive tract. It may be accompanied by gas and bloating or intestinal cramps. The bile can build up in the gall bladder and cause an inflammatory action that results in abdominal pain.
Intestinal Soothe and Build and CLT-X both help to reduce inflammation in the intestinal tract. CLT-X also contains wild yam, which is antispasmodic, relieving intestinal cramping. An alkalizing program to help with clearing gall bladder can reduce pain.

Read on...
Click on the category related to your health concern/symptoms... see below
Events at Four Winds

(Details here)

Wednesday January 14
Subject: Healing with spices

Wednesday February 11
Subject: Meditation and its benefits

Saturday March 14 at 9 A.M.
Subject: Food Cravings & Breakfast

Wednesday April 15
Subject: Essential Oils

Bring your body into balance and harmony!
In Traditional Chinese Medicine (TCM), a 2,500 plus year-old system of healing, there are five basic constitutional types, based on the five Chinese elements: water, wood, fire, earth and metal. 
Balancing these elements is a key to maintaining health.

Survey and Details