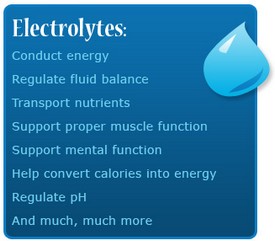 Proper balance is essential for muscle coordination, heart function, fluid absorption and excretion, nerve function, and concentration.
The kidneys regulate fluid absorption and excretion and maintain a narrow range of electrolyte fluctuation. Normally, sodium and potassium are filtered and excreted in the urine and feces according to the body's needs. Too much or too little sodium or potassium, caused by poor diet, dehydration, medication, and disease, results in an imbalance.

Fluids in the body contain water and a variety of dissolved chemicals. Some of these chemicals exist in the form of compounds called electrolytes. Electrolytes are needed for metabolism, for movement of fluids and for normal cellular activities.