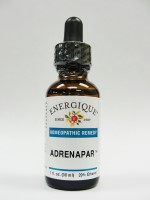 HOMEOPATHICS PARS (GLANDULARS) FORMULA
(see list above for other homeopathic products)

Energique Glandular/Organ homeopathics stimulate the body's various endocrine glands and/or organs to improve their functioning. Drainage remedies are built-in for the particular area being addressed.

Note from Four Winds Nutrition: When taking any detox homeopathic products listed below, we strongly recommend to also take a good herbal combination to support the liver, such as:
Milk Thisle combination or Liver Balance
For specific health issues and our suggestions: see this page.







ADRENAPAR: 1oz.: Adrenal Support Relief of nervous exhaustion, fatigue and forgetfulness. ( 1 oz. or 2 oz.)

CIRCULAPAR: Circulation enhancer. Relief of cold clammy feet, numbness of limbs, painful calves upon walking, muscular weakness of the lower extremeties.

COLOPAR: Relief of constipation, flatulance and rumbling of the colon
DRAINPAR: For the sudden desire to urinate, lowered metabolism, cough, dry and croupy, abdominal bloating, constipation, alternating with diarrhea.

ENDOPAR: Endocrine balancer - For temporary relief of nervous exhaustion, mentally sluggish, easily fatigued, weak pulse, cold hands and feet, and muscular exhaustion.

ENDOPAR F: Female Hormonal balancer - For temporary relief of menstrual pain and cramps, pain immediately prior to menses, sore breasts associated with menstruation.

ENDOPAR M: Male Hormone Enhancer - For temporary relief of male hormonal imbalance.

HEPAPAR: Liver support, digestion. For temporary relief of abdominal boating and soreness, constipation alternating with diarrhea.

LYMPHAPAR: Lymph drainage, spleen support - For temporary relief of swollen tonsils or sore throat, and swollen irritated breasts prior to menses.

HYPOTHALMUPAR: Hypothalamus, pituitary, pineal support - For temporary relief of weakness, exhaustion and vertigo, and difficult mental concentration.

NEUROPAR: Peripheral nerve support. Relief of numbness and tingling; stiffness in nape of the neck and shooting pains with tingling, and burning pain and numbness

OCCULAPAR: Eye support, prevention of cataracts and glaucoma. Relief of minor inflammation and pressure in the eyes, burning and swelling of eyelids.

OSTEOPAR: Relief of pain in lower back, with burning, soreness in the sacroiliac area, and pain in the joints and bones

PARATHYROPAR: Parathyroid dysfunction, balances calcium metabolism. For relief of weakness of extremities, cramps in the calves, swelling of joints, sensitivity to cold, worse in winter.

RENAPAR: Relief of sudden desire to urinate, urination difficult and scanty, frequent urging of urination.

SPLEENPAR: Spleen support, immune system support - For the temporary relief of weakness, weariness and flu-like symptoms.

THYROPAR: For relief of exhaustion and heaviness of the body, lowered metabolism, cough dry, croupy, difficulty swallowing and swollen throat.

THYRODINE: Potassium iodine supplement.  Just one drop provides you with 210 mcg of iodine.

1. Our very existence is dependent upon the body's ability to utilize minerals because
2.
: If food is not digesting properly, it creates waste that builds up downstream in the colon... an open door to toxicity & diseases!
3.
: "Friendly gut bacteria play a crucial role in preventing diseases, from cancer to obesity".